Mark has worked for over 20 years as a software developer in industry and academia so is able to offer a wide variety of software skills including bespoke web sites for you and your business. He also is a web hosting reseller offering affordable hosting as is appropriate for the customer. All web sites are held in secure, UK only, data centers with daily backups.
Identity, Branding and You
You'd be amazed at the number of people I meet who have their own business but
don't
yet have an email address or website that reflects the name of that business.  Often, they are just using a Hotmail account or a free internet email address that came with their home Broadband yet they have vans with their company's name and then that unbranded email address alongside it. Customer's will never come to associate something like 
joeb9123@hotmail.com
with a business branding. come on, please!  

Taking The First Step…
The first step towards getting your own identity on the internet is to find and register what is known as an internet domain name. After this you have the options for email and websites for that domain.
Talk to Mark
Let me do the work for you and leave you to your expertise
I will consult with you and choose a sensible domain name which is registered to you.
I will then create email addresses for each user of the new domain.
I will then show how the email can be picked up from a PC and on the move via mobile devices (iPhone etc).
I will discuss your needs for a suitable website and give you options on content and costings.
Contact Mark to discuss these options now
Great! I now have my own Domain so what about a website ?
Websites come in all shapes and sizes. The best plan is to start with something as soon as possible because in order to find your business on the internet people will start by using one of the search engines (Google, Bing, Yahoo etc). The search engines build up a database of websites by doing automatic searches each day. So, the sooner you have something for them to find (your website with company details and services) the more likely it is you'll get business coming in from the website.
Start simple
If you are not yet sure how you want to present your business on the internet web site, at least get a single page site with a brief description of the products and services as well as contact details. You can add or remake the site later but get your identity and brand out there now!
Hobbies and Interests
If you want to put your own hobby, club or interest onto the web Mark can provide you with the help you need. Typically, these have fewer than 5 pages and have simple designs.
Business Websites
If you are a small business and want to have a web presence then you might only want a few pages with a contact form. All Seasons Gardening, SMS Analytical, PMCS Electrical are examples of this sort of site written by Mark Simmons.
Whatever you need, I'll arrange an initial meeting to understand your business needs, provide a formal quotation and design 'mock-up' to agree before work begins.
Customers have access to see and test the site at the key stages on a private development server throughout the project and the site is only moved to a public server when the site launch date has been agreed with the customer.
Payment normally consists of a small deposit on agreement of the quotation with balance of payment to be made on or shortly after the agreed public launch date.
Robin Crow Restorations:
PMCS Electrical Services:
You might be a larger business and need a customer portal comprising login area and supporting database. The Guildford Branch of the RNLI is an example of such a site:
RNLI Charity Site:
May 2014: A local Car Dealership website based on a commercial theme which Mark has customised (child theme) for the customer and recently enhanced with new code to suit changing needs. This site is responsive (mobile friendly) :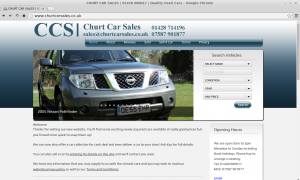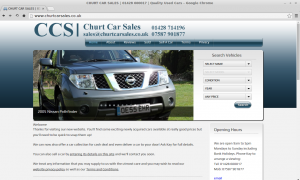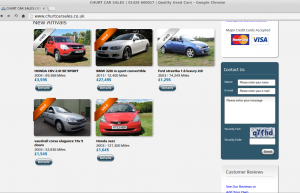 August 2014: Sue Hughes started a horse rehabilitation business based at her yard and so the Equine Progress site was created as a business starter website along with branded email and business cards: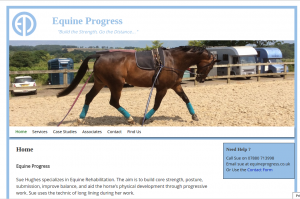 Oct 2014: The directors of a small consultancy company, Genuine Progress, wanted an entry level business website with branded email. Mark supplied them with a clean looking, no-clutter website from which they can grow over the next few years as their needs demand :
Most web sites do not require much in the way of sophisticated graphic design skills but rather Mark creates simple logos as well sourcing existing commercial images from photo libraries.
However, for a more sophisticated site presentation Mark can bring in some design skills of a local graphic designer. This combination of Mark's technical and a designer's artistic skills is exactly what is needed for a great looking company site.
An example is "Carer Call" site with some screen shots shown below:
Carer-call featured a secure login area for customers, searching a SQL 2005 database for matching care requirements, and a custom calendar holding care bookings for each customer so they could manage their own care requirements.
1-STOP
Whatever you needs, we'll make it easy for you get your business online including domain registration, email, website design and maintenance.
Contact Mark to discuss getting everything done for you now
K I S S
Mark does not provide gimmicky sites containing flashing text, tacky banners or pop-up pages but he will provide clean pages with clear text and pages will be W3C verified as correctly constructed using CSS designs compatible with modern standards compliant browsers.
Please phone or email and ask for more details